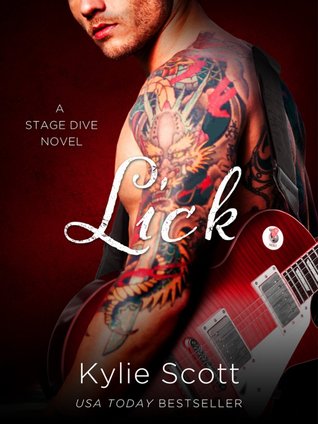 Lick
By: Kylie Scott
4 "What Happens In Vegas…" Stars
Genre: Rock and Roll Romance
Cliffhanger: No, but it is part of a series.
Price: $3.99 for Kindle
Wine in my Mug: Relax Riesling
Recommendation: Definitely.
One of my favorite anime/manga series of all time, hands down, has to Nana. It takes the term "sex, drugs, and rock and roll" and gives the reader/viewer a glimpse in the life of two girls tackling those things, and trying to find happiness despite the obstacles life throws their way. I must have read the series at least 10 times, watched the anime even more, and seeing how I hate repetition that speaks to how well done it truly is. It is because of that series that I have a soft spot for rock and roll stories. When I come across one I pick it up, but none have really had that same magic that Nana holds for me.
But then I was introduced to Stage Dive. Nana may be my first rock story love, but this series seems like it could take that spot away. Nah…what am I saying? Takumi will always be my favorite!
Lick did a very good job introducing us to the band Stage Dive and the members in it. This book focuses mostly on David Ferris, the lead guitarist/song writer, and the h of this story named Evelyn. Evelyn wanted to celebrate her 21st birthday in a big way, so she goes to Las Vegas with her best friend for a crazy night of drinking and partying.

Instead of waking up in her hotel room with her bestie, she wakes up the next morning in bed beside a sexy, tattooed man and has a ring on her finger. Sporting a super hangover, she tries to remember the events of the night before but has no recollection of anything that would have led up to the situation she currently has found herself in. She panics and when the guy wakes up, the real fun begins.
She does not remember him but he remembers everything. While she views her predicament in a state of shock and horror, he was more than happy, well until he realizes she thinks it was a mistake.
"Let me get this straight, you don't remember anything?"
"No," I said, swallowing hard. "What did we do last night?"
"We got fucking married," he growled."
It would be a simple thing to just get it annulled and part ways, she had every intention to do just that, but was quickly bombarded by paparazzi before she could even walk into the door of her home.
It is there she realizes just who she had drunkenly married. David Ferris isn't just any guitar player. He is a ROCK GOD! His masterful skills on the stage are only slightly superior than his fame and the notority of his band Stage Dive.
With reporters and paparazzi hounding her doorstep, she takes David up on his offer to stay with him in L.A. until they get the divorce papers in order. It is there she gets to know him, and realizes there is a lot more to him than meets the eye. It is when they start spending more time together, she begins to understand his reasons of why he married her in the first place.
"I like you the way you are, blurting out whatever shit crosses your mind. Not trying to play me, or use me. You're just… being with me. I like you."
David is a great character. He is sexy, sweet, caring, and thoughtful. Maybe it is because he is an artist that he is so in touch with his feelings and doesn't mind exposing them to Evelyn. Evelyn is also an everyday chick who doesn't flood the pages with stupid choices that h's sometimes do in these kind of books. Her thoughts and feelings were realistic to me, and I enjoyed reading how the two of them ultimately found a way to be together and make it work.
I also liked the side characters and the other members of the band. They each have their own book in the series and I look forward to reading the next one featuring my favorite member of the band, Mal. He is just plain awesome!