Bully

By: Penelope Douglas
3 ¾ "Jared Is An Asshole" Stars
Genre: NA Romance
Cliffhanger: No, but part of a series.
Price: $4.99 for Kindle
Wine in my Mug: Chateau Ste. Michelle Riesling
Recommendation: It was pretty good.
This is one of the many books that had been recommended to me that I have put on the back burner until now. Since the last few books I read was in the same genre, I decided to give it a shot before I switched up to something different. Bully was an interesting read. There were parts in it I really liked, and other parts that I absolutely hated, but all-in-all it was pretty solid.
It starts us off with the h, Tatum, who is being (you guessed it) bullied. The main offender is a boy named Jared. He used to be her closest friend, but a few years ago, everything changed. What once was a great friendship, turned into a dark hate, and Jared has made it his mission to make Tate's life miserable.
She has had enough of his constant attacks and the way she is being treated by others (due to his encouragement) in school, so she takes off to Europe for her junior year. She spends an awesome year in France, where it gave her not only a reprieve from Jared's antics, but also a fresh perspective. She then goes back to her hometown to finish off her high school career as a senior, with a brand new look to match her changed attitude. She isn't going to take his crap anymore, and she fights back.
The writing is well done, and I enjoyed the back-and-forth between Tate and Jared. He does some pretty shitty things to her and when the reason behind it is revealed I was like:
It made me mad. Like seriously mad. It made me want to find a shaman that could bring him out of the book and into the real world, just so I could power punch him in the balls.
She has a better heart than I do. That is all I got to say about that. I'm all about forgiveness but there is a limit to my tolerance for jackasses. Her best friend is even worse. If I had a friend who did what she did, I would have been like: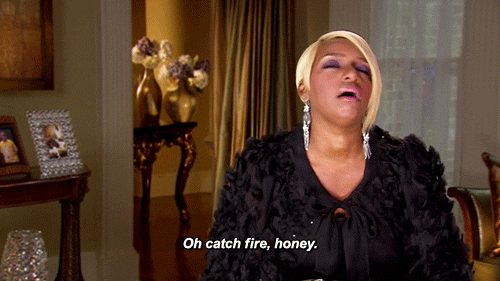 There was like ZERO loyalty from that girl, I swear. Tate needs to seriously up the caliber of her friends. Chicks before dicks. Learn it. Live it.
Despite the characters aggravating the mess out of me from time to time, it was a pretty solid way to pass the evening, while I snuggled up next to my hubby (who was playing Call of Duty with his friends online). He gave me the side-eye a few times when I yelled at my Kindle screen, but he just topped off my wine mug and let me be. If you like NA books that are full of drama, this one is for you. If not, there are plenty of other novels for you to enjoy.