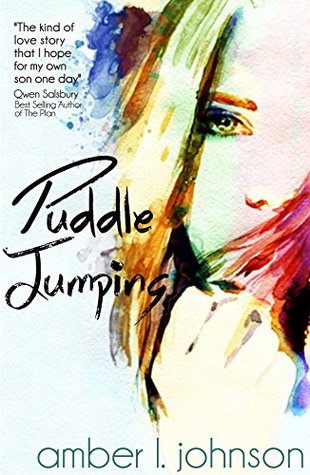 Puddle Jumping
By: Amber L. Johnson
5 "You're My Lilly" Stars
Genre: YA Romance; Autism
Cliffhanger: No, but the author says the story will continue on in another book.
Price: $2.99 for Kindle
Wine in my Mug: None. I used it to catch my tears.
Recommendation: If you are up for a quick dramatic read.
I came across this book awhile back, loved the art on the cover and bought it, but hadn't had the time to invest in reading it until now. Once I opened the eBook and say how short it was, a novella if around 120 pages, I dove in and finished it in just under two hours.
Since it was such a short book, I don't really want to go into to much detail about it, in an effort to not spoil such a great story for prospective readers, but I will just give you a brief summary. Puddle Jumping is about a girl named Lilly, who is hired to babysit a boy named Colton. He is nine, just a year younger than her, but she takes the money and spends a few short weeks, becoming friends with him and wondering why he was so different. After a few incidents, where she gets injured, Colton's mother thought it would be best to not have her come by anymore, and their new acquaintance comes to an end. Years pass, and she sees him again at a fair. They connect for a brief moment, and she finds out what makes him so different from everyone she knows.
Colton is autistic. He has Asperger's Syndrome, and his main outlet is his art. He is very talented and his art has been featured in the media, making him well known in their town. After a brief stolen moment, they are gone from each other's lives again, only to reconnect yet again a few years later when he attends her high school for his senior year.
"He'd always been there, regardless of whether I allowed myself to think of him. I'd always been in the back of his mind, whether he could tell me that or not."

She immediately greets him, excited that she can once again be in his life. She had been feeling for a long time that something was missing in her life, but when she sees him, she feels whole. Then the story takes off, chronicling their relationship, in Lilly's agonizingly emotional POV.
She sacrifices, loves, and cares for him so strongly, I had a hard time believing her age. She seemed too mature to be eighteen. When I was eighteen, I was definitely not what you would label "mature", though I did have my own apartment and supported myself physically, emotionally I was not quite at her level. I loved how loyal she was and how focused she was on how to work with him and his condition. It was a really beautiful story and caused quite a few tears to fall, as I progressed through the book and made it to the end.
"I don't believe there's such a thing as conventional love. Love is bending. Love is breaking. Love is constantly learning about the other person until you go crazy because it will never be perfect, but there's no fault in trying. I've loved a boy who was extraordinary beyond words, in my eyes."
"Life is meant to be lived, and if you're offered the chance to experience things with an extraordinary person, then there isn't one reason in the world to say no."

Though the book was short, and reading it took less than watching a movie, it stayed with me throughout the night, as I thought about what I would have done in her situation, and if I could have been as strong as her. Even though the book had a resolution, I am eager to read more in Ms. Johnson's next installment when she releases it.