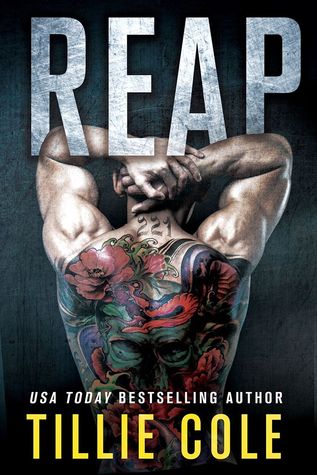 Reap
By: Tillie Cole
4 "221" Stars
Genre: Contemporary Romance; Dark
Cliffhanger: No, but part of a series.
Price: $3.99 for Kindle
Recommendation: Keep 'em coming Ms. Cole!
I have yet to come across a book that Ms. Cole has written that I don't like. She creates such great characters, interesting plots, and combine that with excellent writing…
Reap is a story about yet another abducted boy-turned-fighter, 221. He was raised as a prototype for a drug that makes him carry out any order. He lives to serve, and his master uses him to kill any who stands in his way, until Luka finds him and frees him from that life.
After years of the drugs, abuse, and fighting, 221 doesn't remember who he is. He doesn't even know what to do with himself, and when he meets Talia, her kindness confuses him. Talia is Luka's sister, and she finds herself curious about Luka's "project". He is unlike any man she has ever known and she wants to help acclimate him to life as a free man. She is a sweet, loving girl, and she helps him detox from the drugs and he doesn't feel the rage when she is around.
Something inside of me cooled. The rage that always ran through my veins calmed. It was still there, I could feel it bubbling under the surface, but her warm hand had calmed it. I took a deep breath. There was no pain, no poison, just the feeling of her.
While she was helping him with his issues, he in turn helped her as well.
He'd come into my life like a storm. A storm I didn't want, one I'd prepared all my life to hate, to fight. But it brought with it refreshing rain. It cleared the skies and brought out only warmth. Zaal was saving me, liberating me from loneliness. 
Their relationship wasn't perfect, but it didn't make it any less beautiful. They completed each other, made each other better, and was very enjoyable to read. Check it out!