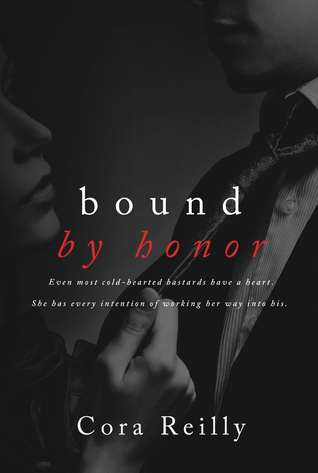 Bound By Honor
By: Cora Reilly
3 "Arranged Marriage " Stars
Genre: Contemporary Romance; Mafia
Cliffhanger: No, but is part of a series.
Price: FREE for Kindle
Quick Thoughts: The series has potential.
I was in the mood for a mafia-type book so when I came across this one in the Kindle store for free, I snapped it up. Bound by Honor is book one of the Born in Blood Mafia Chronicles and despite the series awful name, the book was pretty decent.
It starts us off with Aria. She is a mafia princess who has been promised to a rival mafia boss when she turns eighteen. She met him only one time before, and she is terrified of him. Despite his good looks, there is a darkness in him and despite her reservations, she has no choice but to marry him.
Luca "the Vice" Vitiello, is a wealthy but ruthless man, who got his nickname from crushing his enemies' throats with his bare hands. He's next in line to run his family's  syndicate and doesn't believe in love. He goes along with the marriage to solidify his family's strength and position due to the Russian Bratva and Taiwanese Triads, trying to squeeze in on their territory.
"Love is something girls hope for when they don't know better, something women long for when they lie awake at night, and something they'll only ever get from their children. Men don't have time for such notions."
They haven't seen each other since Aria was fifteen, and when they meet again they are married. She is surprised that he doesn't force himself on her, but gives her space until she wants more from him, and the rest of the book continues on chronicling their blossoming relationship, and overcoming the obstacles that comes their way.
It was an okay read. It was written well, and the characters were decent, but there was two side characters I found myself more interested in reading about than the main characters (Gianna and Matteo). The book had a tendency to drag for me, and was a little dry in some parts but it was free and it holds promise that the next ones will be far more entertaining.