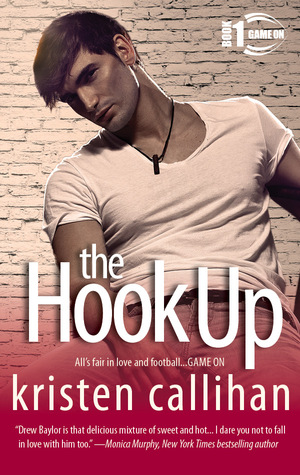 The Hook Up
By: Kristen Callihan
3 "Big Red" Stars
Genre: NA Romance; College
Cliffhanger: No.
Price: $4.99 for Kindle
Quick Thoughts: Predictable but good.
Do you like the NA romance genre? Are you a fan of college angst-filled insta-love works of fiction featuring a sassy heroine and a BMOC (Big Man On Campus)? If you responded with a yes, then The Hook Up is right up your alley.
This novel was recommended to me by a friend, and since I have read quite a few NA romances to-date (some better than others), I decided to give it a try despite the unfortunate cover. The guy looks like a total douche canoe and I'm glad that the author changed the cover. It is for the best. Truly.
This book starts us off introducing us to the two MS's Anna, and Drew. Drew is the star quarterback and college Lothario (*yawn*) who only needs to snap his fingers at a girl to get them to give up the goodies. However, when he spots Anna in one of his classes, and he finds that he will have to actually work for his conquest, he finds himself horribly tongue-tied and suffering from foot-in-mouth disease.
His pick-up game needs serious work, but it is his failed attempt at game which got me more interested in reading what was shaping up to be a typical book in this genre. I like the fact that Mr. Perfect wasn't so perfect. His flaws made him adorable. Anna is attracted to him as well, but due to her past, she finds herself unable to do more than offer him no-strings-attached hook ups, not wanting to catch feelings for him. She also employs a no-kissing-on-the-mouth rule Pretty Woman style.
Despite her every effort to not fall for him, she was no match for the sheer determination Drew employs to make her fully his. He is sweet, sexy, and had an Adonis belt that makes women go speechless, so she never had a chance. Angst-filled drama ensues, their pasts are revealed, secrets told, and we get a satisfying-yet predictable HEA that had me smiling.
With that all said, this was one of better NA romances that I have read despite it being so predictable, I could plot it's course on a map. Well written, well-paced plot, and likable characters, however, made this one a standout from the others in this genre, and worth checking out.