Fear You
By: B. B. Reid
2 ½ "Boring" Stars
Genre: Dark Romance
Cliffhanger: Meh.
Price: $2.99 for Kindle
Quick Thoughts: How the hell do you make Kieran Masters BORING?
Fear You is the second book of the Broken Love Series, and it picks up where the first book's crazy cliffhanger left us off at. I had every hope that this book was going to be even more crazier than the last book, and went into it with the same glee and anticipation that a kid opens up gifts at Christmas has.
I was also as disappointed as that kid if they only received underwear and socks.
This book, in all honesty, was BORING! She took one of my favorite psychopathic book boyfriends, Kieran and made him boring. I could barely get through this one, it was a real struggle, but I needed answers to the questions the last book brought up, so I slogged through, skimming a lot of the repetitive nonsense and made it to the end.
Now don't get me wrong, there were some really good parts in this book that reminded me why I liked this series so much. Kieran, though becoming more boring, was no less ruthless and determined to have his revenge. He still let it consume him, and his friends were still loyal, with the exception of Keenan, who after learning the truth of their true relationship between each other, wants no contact with him anymore.
Lake was still a hot mess, oscillating between hating Kieran and letting him fuck her brains out. I was like:
Despite his dark side, he genuinely cares for her, while Lake just came off as a disloyal bitch. Even if he did did kill those two assholes in the end of the first book (which he didn't), they more than deserved it, and this world was a richer place with out their evil asses in it.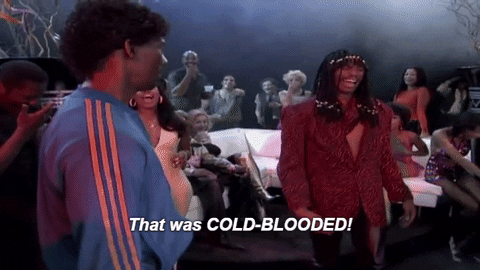 If you treat this book as a set-up for the next one, which is Kennan's story, it is much easier to get through, I only wish the author would have put more thought and care into this one and made it more interesting for her readers who was spoiled with the high drama, mind-fuckery from the first book. She should have topped that, instead of giving us just what felt as a "filler" book.