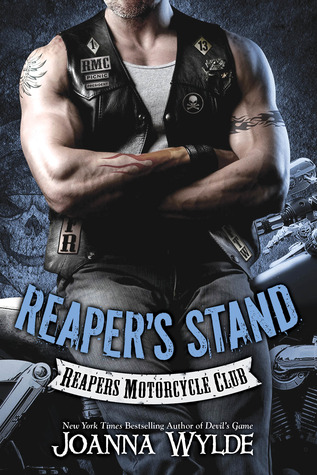 Reaper's Stand
By: Joanna Wylde
3 "Disloyal Bitch" Stars
Genre: MC Romance
Cliffhanger: No, but part of a series.
Price: $5.99 for Kindle
Quick Thoughts: Picnic deserves a better Old Lady.
I started Reaper's Stand with high expectations. Ms. Wylde's style of writing, though isn't masterful prose, it reads more gritty and genuine to the subject matter. This is a MC book, and bikers aren't known for their soft underbellies and hearts and flowers. This genre at times can be very misogynistic with the way women are portrayed, but since that is something I already know going into these books, I don't mind it at all. No one is forcing these girl to pass themselves around to various men, they do it because they want to. It is its own culture, one that I read on occasion, but not one I would seek out in my real life.
This book is about the Reaper's President Picnic. He has been in the previous books, and he is a tough man who take zero shit from anyone.
At forty-three, he is a bit older than the other guys in the previous books, but I like that because he is more mature and there is less drama with him. He has two children with his late wife, and vowed never to take another Old Lady. He just doesn't want the feelings and the drama that comes with it, and instead makes use of the the club girls when he needs to let off some steam.
He meets London, the club's hired maid service, who is also older than the previous women in these books (38), and between getting her small cleaning business going, and taking care of her cousin's eighteen year old child, she doesn't have any real time to let her hair down and have any fun. If she isn't working, she is trying her best to take care of Jessica, who has physical and mental issues, and seems to create enough drama for the both of them.
Though he knows she isn't the kind of woman who is down for a one night stand, he can't seem to get her off his mind. He finds himself intensely attracted to her and she feels the same way. He is a bad boy, a walk on the wild side, and though she knows that she shouldn't, she can't help her growing feelings for him.
This bitch and her gorgeous rack had been making my life a living hell for the past six months, because she was the last think I needed in my life and I'd never wanted to fuck anyone more…
And that was a problem.
Their story isn't a smooth ride by any means, but as their feelings for each other progress they had to learn to open themselves up to one another, something they both do rather slowly and reluctantly. I won't say more on this because I don't want to ruin the story, but there is one part around the end that almost ruined the whole book for me. While I absolutely LOVED Picnic, London didn't evoke the same feelings for me. What she does in my opinion is so disloyal, it made me wish Picnic dropped her ass and found himself a woman who wouldn't betray him like that instead of forgiving her. That whole issue could have been resolved if she just was honest with him and told him what was going on. HE IS A PRESIDENT OF A MOTORCYCLE CLUB FOR FUCK'S SAKE. I'm sure he could have figured a way to help her, but she doesn't and that made me want to slap the mess out of her, and made me deduct a star from my rating.
However, all in all, it was Picnic and his bad boy ways and dirty mouth that kept this book going for me. That man had a mouth on him, and he backed up EVERY word!
"We're going to fuck. Then I think we'll probably do it again. After that I'll buy you dinner, but only if you're nice."
If you have read the previous books, than you should definitely give this one a read. The next one in this series is about Painter, my least favorite biker, so I think I'm going to read the one about Puck first. The synopsis on that one looks promising.