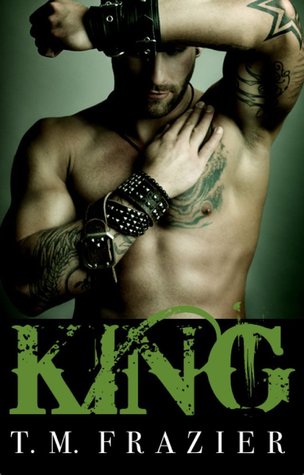 King
By: T. M. Frazier
3  "Doe, A Deer, A Female Homeless Deer" Stars
Genre: Contemporary Romance; Dark
Cliffhanger: YES.
Price: $3.99 for Kindle, FREE for Kindle Unlimited
Quick Thoughts: Short and ends with a helluva cliffhanger.
This is one of those books that I have seen the cover of on the Kindle store and GoodReads, but I never clicked on it. Today, I took the bait, wanting something rather quick to read because I had a lot of things to do today. When I clicked on it, I then recognized the author's name as one that wrote a book that I enjoyed before, so I dived into this one without much of a thought.
King is about a girl named Doe. She is homeless, starving, and desperate and goes to a party at King's house (celebrating his release from prison) in a desperate attempt of catching a biker's eye in the hopes that he would then give her food and shelter. With no memories of her past, she is a pretty tragic character and when she then gets mixed up with King, she feels as though her situation was already at rock bottom so it could only go up from there.
King is a complex character. Alpha-male and bent on revenge, he reminds me a lot of Kieran Masters in the book Fear Me. He is ruthless, cold, and doesn't care who he has to hurt, use, or kill to achieve his ends. When he meets Doe, he knows who she is and then she becomes his pawn, however, as the story goes on, he starts to care for her.
I found myself again in the most unlikely place. I'd found myself again in the haunted eyes of a girl who was just as lost as I was. Or maybe, we didn't find each other at all. Maybe, we just decided to be lost together.
He is a scary enemy, but the most loyal friend to have on your side, and I loved his interactions with Doe and his friend Preppy. Preppy was awesome. He almost overshadowed the main characters in this book with his wit, dialogue, personality, and fashion-sense and I wanted so much for him to have gotten his own book in this series.
Dark, gritty, and full of secrets, this book was well paced, and had strong writing. I would have given it four or five stars if it wasn't for a certain event that happens around the end of this book that had me reeling and yelling at my Kindle in equal parts sadness and anger. It didn't need to happen. Now thinking back to it, I'm upset all over again, so let me now end this review so I can go take some deep breaths.