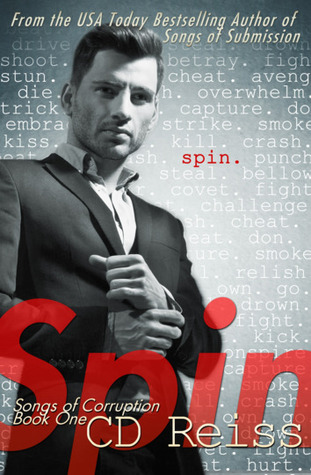 Spin
By: C. D. Reiss
4 "Mafia Badass" Stars
Genre: Contemporary Romance; BDSM; Mafia
Cliffhanger: Yes.
Price: $3.99 for Kindle; FREE on Kindle Unlimited
Quick Thoughts: LOVED pretty much everything that came out(and in *wink*) Antonio's mouth!
There seems to have been a trend among authors to write trilogies. I don't mind this as much as the next person, largely because I rather have well written, flushed out plot, than a rushed through book comprised of a series of loosely held together plot points (I'm looking at you Beautiful Disaster!). I came across this book when I was looking for a good Mafia-like story to read and it was pretty good.
Spin is a story about a woman named Theresa. She has a rather depressing life, boring job (but at least she has one!), failed engagement (she caught her ex-fiancé cheating on her), and she desperately wants change. She gets it in the form of Antonio Spinnelli. They meet when she was out one night with her brother, and then they meet again a few days later, where she learns who he is. They are mutually attracted to each other, which then gives us some smoking hot quotes from Spin, where he lets his quick lawyer wit come to play, but with dirty words.
He is so different from her usual "vanilla" boyfriends. He is dark, dangerous, edgy, and though that should scare her off, she finds herself wanting him more.
Spin tries to fight what he feels for her, knowing that she is a "good girl", and doesn't want to pull her down into his world. After much angst, and self-denial, they decide to disregard their previous reservations and do the "four-legged foxtrot".
They then begin a relationship, and while they excel between-the-sheets, they come across trust issues that hinders the progression of their relationship. While Theresa has led a pretty dull life, Spin's life is a lot more "colorful". He has secrets, things he isn't sure he would be able to share with her, further proved when something happens that will shake the little bit of trust he managed to develop for her. She then tries to regain it back, and while the road to their eventual HEA is rocky, it is well worth the journey. I can't wait to pick up the next one!