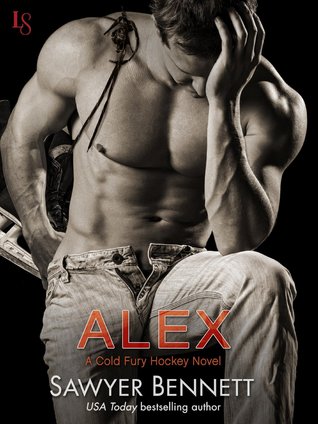 Alex
By: Sawyer Bennett
4 "Did I Just Enjoy A Hockey Book?" Stars
Genre: Contemporary Romance; Sports
Cliffhanger: No.
Price: $3.99 for Kindle
Quick Thoughts: I LOVE a bad boy.
Alex is a bad, bad boy. He is magic on the ice but has a reputation of being an asshole to everyone, including the fans. The team's management, desperate for him to clean up his image, has him volunteer to be the face of an anti-drug campaign in the hopes of turning his reputation around, and makes it where he can't say no for his answer.
…my employer has just drawn a pretty deep line in the sand. I have two choices—do what they tell me or kiss my career goodbye.
Sutton, a social worker who is spearheading the campaign, is reluctant to work with a man with his reputation. She fears that he can ruin what she worked so hard on, but when they first meet, she can't help but to swoon at his appearance. She is at first shocked that he is the man who she is slated to work with, but not as shocked as Alex is when he realizes that she is the person he has an appointment with to discuss the program. Thinking Sutton was a he, he is taken back for a moment, trying to quickly brush aside the attraction he felt for her to keep things professional, and warns her that working with him won't be easy.
Sutton doesn't follow hockey, so she doesn't know about him or his reputation, only what she has heard from other people, so she tries to stay optimistic and flexible, in order to make this year-long project as drama-free as possible. However, Alex doesn't make things easy. They begin a working relationship, that then evolves into a friendship, as they both open up to each other about their painful past. Once sex becomes involved…well Alex and Sutton steams up the pages with their intense chemistry. 
Sutton understands him in a way most don't. She sees past his gruff exterior to the broken person he is underneath because it mirrors how she is inside as well.
"Don't fall into the mold that people put you in. You are only what you want to be. If you want to be mean, be mean. If you want to be nice, be nice. But don't do it because anyone expects it of you. Do it for yourself."
They have a hard time letting each other in but when they do, we get a satisfactory HEA. Though this book is kinda predictable, I liked the banter and the characters enough to rate this one pretty high. This book is the first of a series that I am sure to keep following when I am in the mood for a light read.